The ideal height for mounting a Tv in wall is around 50-70 inch. This surely will leaving a lot of empty space in the wall above the TV. At first, usually this empty wall doesn't looks weird, but as time goes by, you will realize that this blank space looks awkward and need a little touch to make it looks better.
If the above image is familiar to you, than you are on the right page. In this article we will give you some ideas on how to decorating above TV to make it looks much more attractive, thus make your entire room interior feels complete. And here they are :
1 of 9
Floating Shelf Above TV
Shop the Look
Sorbus White Rectangle Floating Shelf
This is one of the most common way to decorate around TV, and this way is indeed producing the best results. Using floating shelf will give you a lot of flexibility where you can add your favorite decorative items or accessories there, or, you can use those shelf as an extra storage options where you can put something like books to help make your room well organized.
To get the best results, choose a floating shelf design and color that match your room decor style. This way, the shelves will looks integrated perfectly with your entire room.
One of the easiest way is by choosing the shelf with same design and color with your current TV stand, as we did in the image example above. We pick white minimalist shelf that looks similar with the white TV cabinet stand, thus this will make them blend perfectly.
---
2 of 9
Decorate Using Wall Lamp
Shop the Look
Scandinavian Style Solid Wood Wall lamp
You may rarely heard this idea, but using wall lamp or wall sconce can be a great way to make the blank space above your TV looks much more fascinating, especially when your room lack of additional lighting.
Adding this kind of extra lighting can be beneficial in a lot of ways. Not only this lamp can be a decorative elements to occupy the empty spaces, but also can add extra lighting to brighten up your room.
---
3 of 9
Wide Wall Art Above TV
Shop the Look
MOTINI Wide Abstract Wall Art with Grey and Silver Tones
Wall painting can be a great way to decorate empty space above TV. It will make the wall looks beautiful and artistic. There is several important things to consider to get maximum results if you want to use this approach. First, make sure you choose the wall art or paintings that match with your room decor style.
You also should choose a wall art that is slightly wider than your TV to avoid it looks awkward. That's why we recommend choosing a wide wall art for this approach. Last but not least, avoid using colorful wall art as it can distract your eyes while watching the TV.
---
4 of 9
Decorative Clock Above Flat TV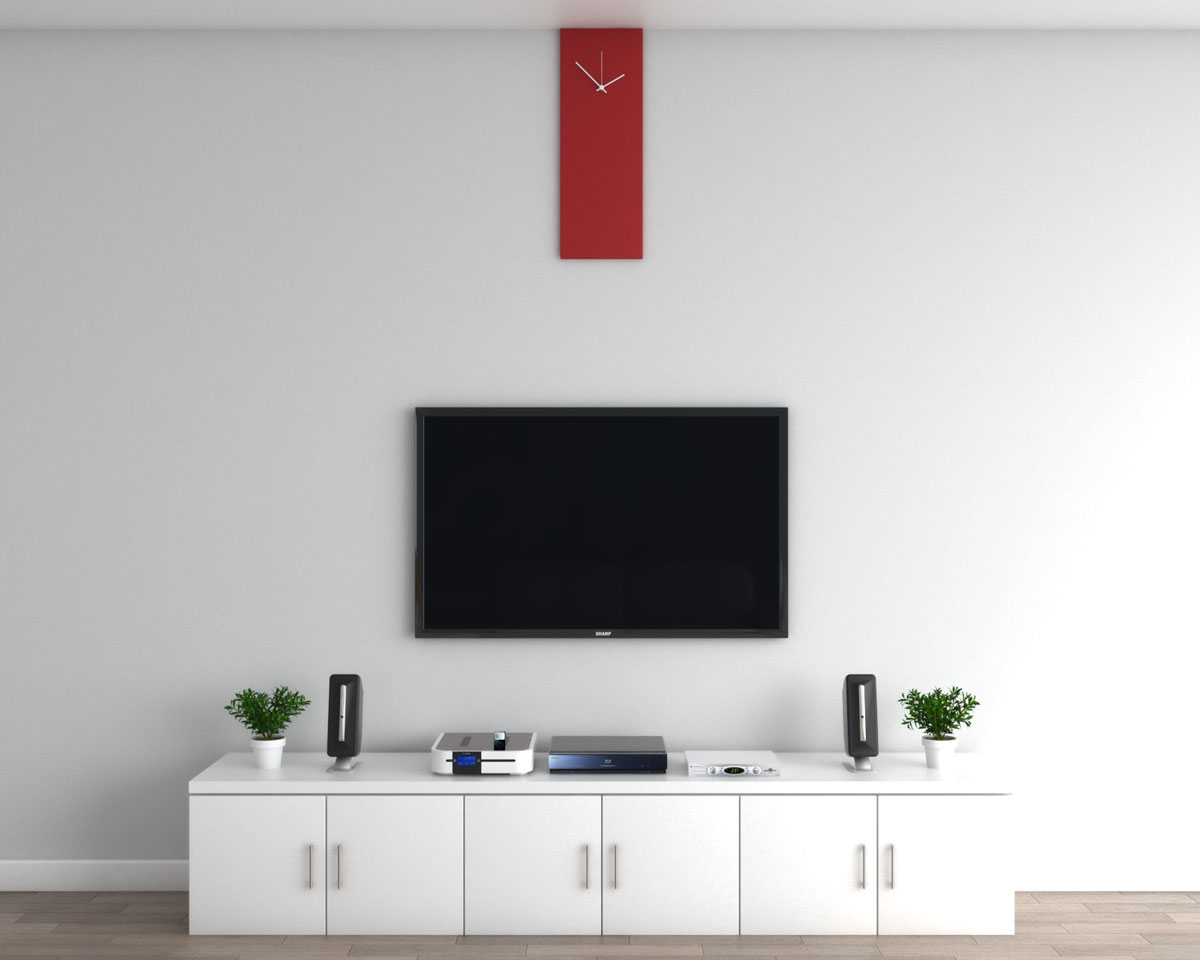 Shop the Look
Metal Art Studio Large Contemporary Red Wall Clock
Do you often feels that you are spending too much time while watching TV? Than this decorating ideas can be a great option for you. By adding a decorative wall clock, not only it will make the wall above your TV looks gorgeous, but also it can be a reminder on how much time you already spend watching your TV.
Usually, there will be a quite large empty area above TV, so to get a best result using this approach, you should choose a large wall clock to avoid it looks distorted or, you can combine the clock with other decorative items.
---
5 of 9
Using Pendant Lamp
Shop the Look
BOKT White Wooden Ceiling Pendant Light Fixtures
Usually, a pendant light are used in the kitchen, dining room or bedside at the bedroom. But do you know that a pendant lamp can also be used above your TV in living room.
A pair of pendant lamp can elevate your TV watching experience with a beautiful ambient lighting, while at the same time those lamp will make the empty blank space looks much better.
---
6 of 9
Add Decorative Mirror
Shop the Look
Frameless Mirror Tiles set of 4
Mirror is a versatile and multi-functional item that can be placed almost everywhere inside a home. And you can also use it to decorate the empty wall above your flat screen TV.
Using mirror, not only you can make those empty space looks better, but also the reflective effects the mirror bring will make your room feel much more larger and spacious. Furthermore, mirror will reflecting a lot of light that will make your entire space looks a little bit brighter.
To avoid it looks boring and monotonous, you can choose a decorative style wall mirror rather than a typical plain mirror.
---
7 of 9
Set of Wall Art Above TV
Shop the Look
ENGLANT-4 Panels Set Framed Canvas Wall Art
Another way that you can use to turn a boring blank space above the TV into a more gorgeous ones is by using a set of wall painting / wall art. You can arrange them freely based on the number of pieces of art and the empty space you had above your TV.
The best kind of wall painting set for decorating around TV is a black and white or grayscale style painting. Those kind of painting looks simple and elegant, but also won't be a distraction while you are watching your favorite movies.
---
8 of 9
Add Cabinets
If your living room lacks of storage spaces, than why not use those empty space above your TV to put some extra cabinets. Those cabinet can be used to put and organize some of your items such as your movies collections and this will make your entire TV area looks well-organized and neat.
To make it perfect, choose wall cabinet with the similar design and color scheme with your TV stands.
---
9 of 9
Wrap With Wall Frame
This method is quite simple but can resulting a great results. By creating a frame, your mounted TV will looks great and this will also make the TV became a focal point for your spaces.
Creating this kind of frame is quite simple, what you can do is by creating some trim to separate the TV area, and repaint or using a wallpaper to create a different contrasting effects for the wall behind the TV.
---
And that's it our 9 best decoration ideas for the wall above TV. You can choose any ideas that you like, or combine two or more ideas to get a more interesting results. Happy decorating!