Although it's not the most popular or best-selling sofa color, the burgundy sofa can be a unique, glamorous addition to any living room, especially for you who are bored with any neutral options that sometimes can look boring, too typical, and become too mainstream. Adding this sofa alone can instantly elevate and bring your space to the next level, thanks to its bold and vibrant visual appearance.
However, pairing it with other colors can be very challenging. As the nature of these kinds of unique shades, burgundy doesn't go well with a lot of colors. Thus, you need to carefully choose every color for other elements around the burgundy sofa, such as the wall colors behind it.
Wall colors behind the sofa can be a fundamental base to determine whether the sofa will look good or bad. And things can be much more complicated for a vibrant sofa like burgundy.
If you are looking for a perfect wall color for your burgundy sofa, our designers highly recommend white, beige, charcoal, dark teal, navy, and mint. These colors provide a perfect backdrop to the deep and rich tones of the burgundy sofa, enhance the sofa's elegance, and add a layer of depth and drama to the space. The burgundy sofa with these wall colors is a perfect pair for those looking to infuse their living space with a touch of luxury and style.
In this article, we will demonstrate to you how those colors perform alongside the burgundy couch.
7 Best Wall Colors for Burgundy Sofa
1. White
As usual, let's start with the simplest option. Undoubtedly, white is a risk-free option to paint the wall behind the burgundy sofa, as the white wall can serve as a plain background that helps the sofa stand out and become the main centerpiece of your living space.
The ultra-light appearance of the white wall can also help tone down the sofa and make it look brighter and softer.
---
2. Beige
If white seems to be mainstream for you, then alternatively, you can go with beige. This beautiful, neutral shade can bring all of the benefits similar to white but comes in a warmer and richer appearance.
These warm effects will also help elevate the looks of the burgundy sofa to make it more appealing.
---
3. Charcoal
For you who want to create a bold, ultra-luxurious living space, dark gray or charcoal may be the perfect choice for you. This dark paint works well alongside the burgundy sofa to create a stunning, bold combo that brings your living room to the next level.
To get an even better result, bring some gold accents that work as a cherry on top to polish up these glamorous living spaces.
---
4. Dark Teal
This is another great bold wall paint option for any living room with a burgundy couch. The dark teal wall complements the sofa perfectly, thanks to its cool tone that mixes and balances well with the hot and vibrant hue.
Dark teal had a very different appearance from the typical teal, as this shade had a strong and intense look that made it a perfect choice for any luxurious setting.
---
5. Navy
When it comes to wall color for glamorous and luxurious style interiors, then navy always becomes one of the best options. These deep, neutral shades spread a lot of elegance throughout the room, and when combined with a glam element such as the burgundy sofa, it looks even better.
However, as a very dark and bold color, we only recommend you use navy as an accent wall, and avoid using it for the entire wall.
---
6. Mint
Let's back to the softer option. For you who thinks that your burgundy sofa is too strong and intense, then it's a good idea to use a soft and subtle color to paint the wall behind it, and in this case, mint is one of our favorites.
This very soft shade of green can tone down the intense burgundy sofa and make it look more eye-pleasing. Furthermore, the mint wall will provide a splash of natural vibe to refresh the looks of the couch.
---
7. Pale Blue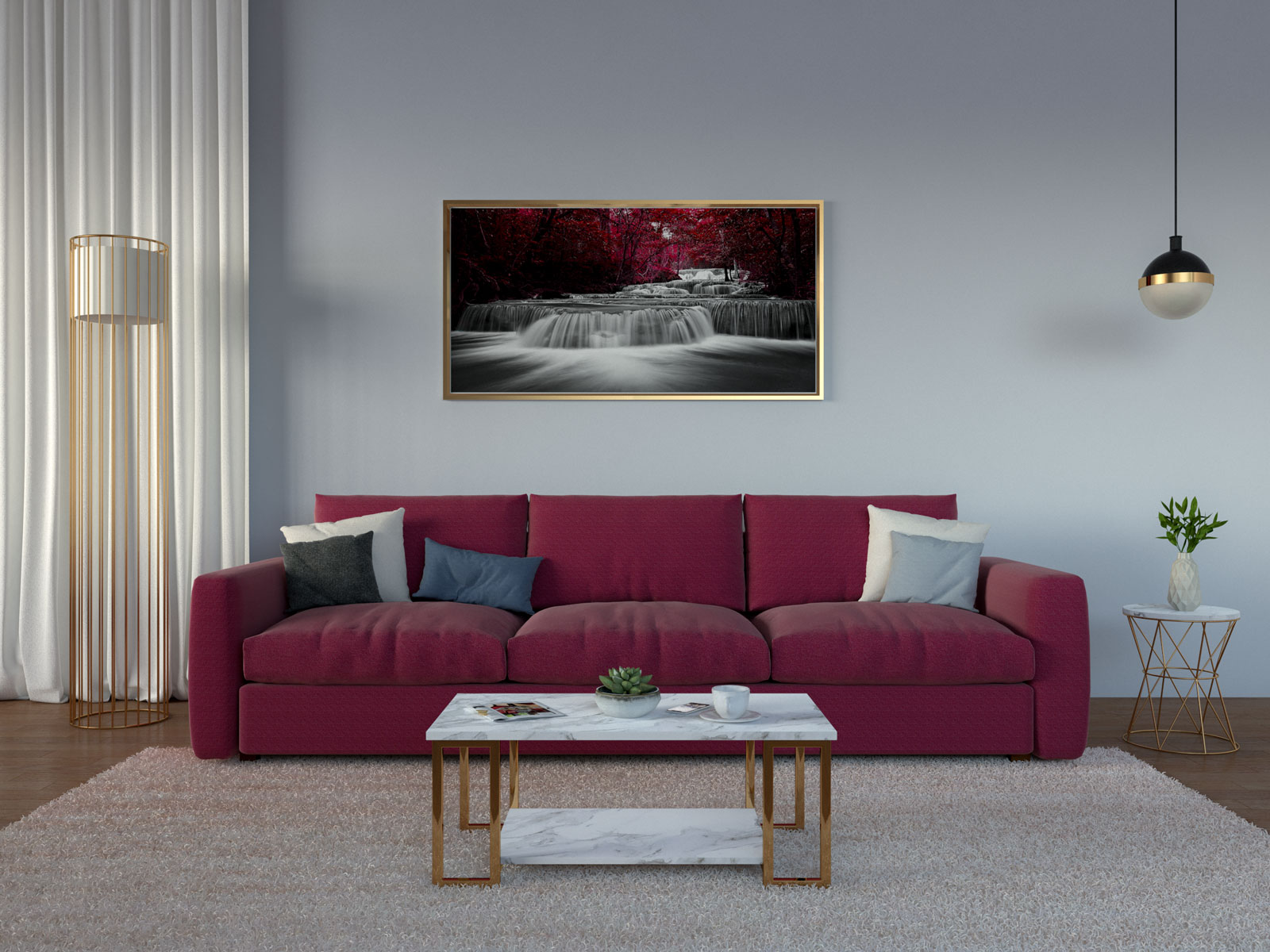 This is another great paint color that can help balance out the overly dominant sofa, thanks to its strong cool tone.
Moreover, even though this paint doesn't have a striking blue hue, it can still provide the airy and soothing ambiance that will make your glamorous living room feel more calm and cozy, allowing all of your families and relatives to relax and enjoy spending their time there.
---
Browse More Wall Color Ideas