Aqua is a unique shade that can make everyone fell in love with it at the first sight. And that's why many homeowners, especially those who are kind of bored with the boring neutral choose this color as part of their home decor palette.
Mostly, aqua is only used as an accent to bring some splash of pop to the room, such as using some aqua artwork, aqua finishes furniture or any other aqua decoration items.
But actually, you can also use it as the primary color on much larger elements, such as paint your walls with aqua, whether it's for the entire walls or just for an accent wall.
Doing this not only will introduce aqua in a much stronger appearance but also can create a dreamy space with a touch of coastal or cottage feels.
However, one big problem when using aqua is this color is very difficult to combine with other shades. And for you who want to introduce any other colors to your color scheme, this surely will be a massive obstacle.
Our interior expert tries to solve this and creating an experiment where we tested many different color variations against the aqua walls, and thankfully, we find some that can still work quite well. Here they are :
Best Accent Colors for Aqua Wall
Bluish Gray
In our opinion, this is one of the best choices when it comes to the aqua wall. This color had a strong presence of gray that very essential to keep it looks neutral and blend relatively easy with tricky colors like aqua.
And then, the dark blue hue brings some typical elegance of blue and keeps the harmonious connections with aqua who also had a bit of blue touch.
If you want an accent color that will stand out boldly against the aqua, then we highly recommend you to try this color.
---
Air Force Blue
This is another great blue shade that will work perfectly against an aqua background. Similar to the previous one, this air force blue had a dominant gray undertone, but in much softer looks.
Thus, it can still bring elegant looks while at the same time keep it smooth and subtle, and let the aqua still becomes the main star.
---
Medium Gray
The previous two choices are shades that had a strong gray presence, and it is shown how important is the gray tone when it comes to aqua. That's means, you can also use any plain gray shades as an accent color for your aqua wall. And one of our favorites is the medium-toned gray.
This kind of gray can still bring a lot of contrast against the aqua, without being too dark. Additionally, using any gray decor items or furnishings can help neutralize the vibrant walls behind it and makes a more pleasant and neutral look.
---
Peach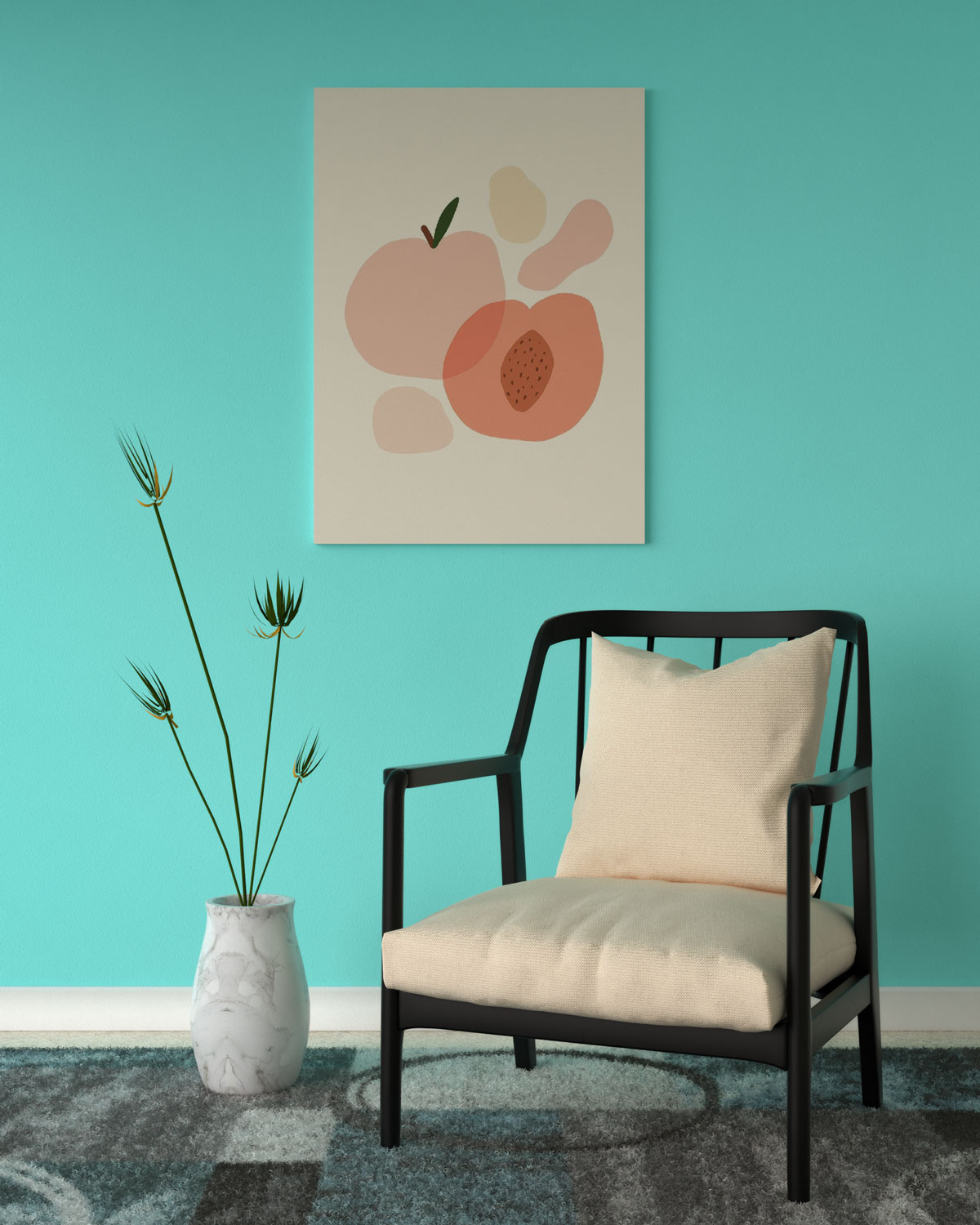 Aqua had a very strong and vibrant visual look, and if you want to bring an accent that can tone it down a bit and makes a smoother appearance, you can try using peach.
As a subtle and soothing shade, any peach items will balance the vibrancy of the aqua walls. Moreover, it can be resulting in aesthetic and eye-pleasing looks to further enhance your aqua-themed interior.
---
Amber Yellow
If you prefer any other light and bright choices to contrasting the aqua wall, then try amber yellow. This color will bring a splash of a beautiful yellow tone to enrich the looks of your aqua wall, resulting in a more fun and joyful vibe.
Additionally, combining yellow accent with aqua will bring some tropical touch that is perfect for any cottage or beach house.
---
Tangerine
This is another great alternative for the vibrant choices. As it nature, any orange shades can be easily noticeable wherever it's used.
Thus, you can use this choice if you need to bring other strong and vibrant options to complement the aqua wall. However, we tend to use any orange shades that tend to be softer, such as this amazing tangerine.
---
Magenta
Combining unique colors with another unique one can resulting surprising results, such as when we try magenta against the aqua.
Both colors had a very similar character in terms of brightness, and that's why they look great together to create amazing colorful spaces.
---
Check Out Some Similar Posts