Minimalist Modern Small Bedroom
Today, as the home and property price are rising, we often found a home or apartment only provide small spaces for their bedroom, especially in the big metropolis city. The problem with having small sized bedroom is that this kind of bedroom is not versatile, that means its difficult to design or decor the bedroom the way that you want.
If you had the same problem, don't worry. Here in roomdsign.com, we design a lot of small bedroom into different bedroom design and style to give you ideas and inspiration. Today we add more design to our small bedroom list by creating this minimalist modern style bedroom.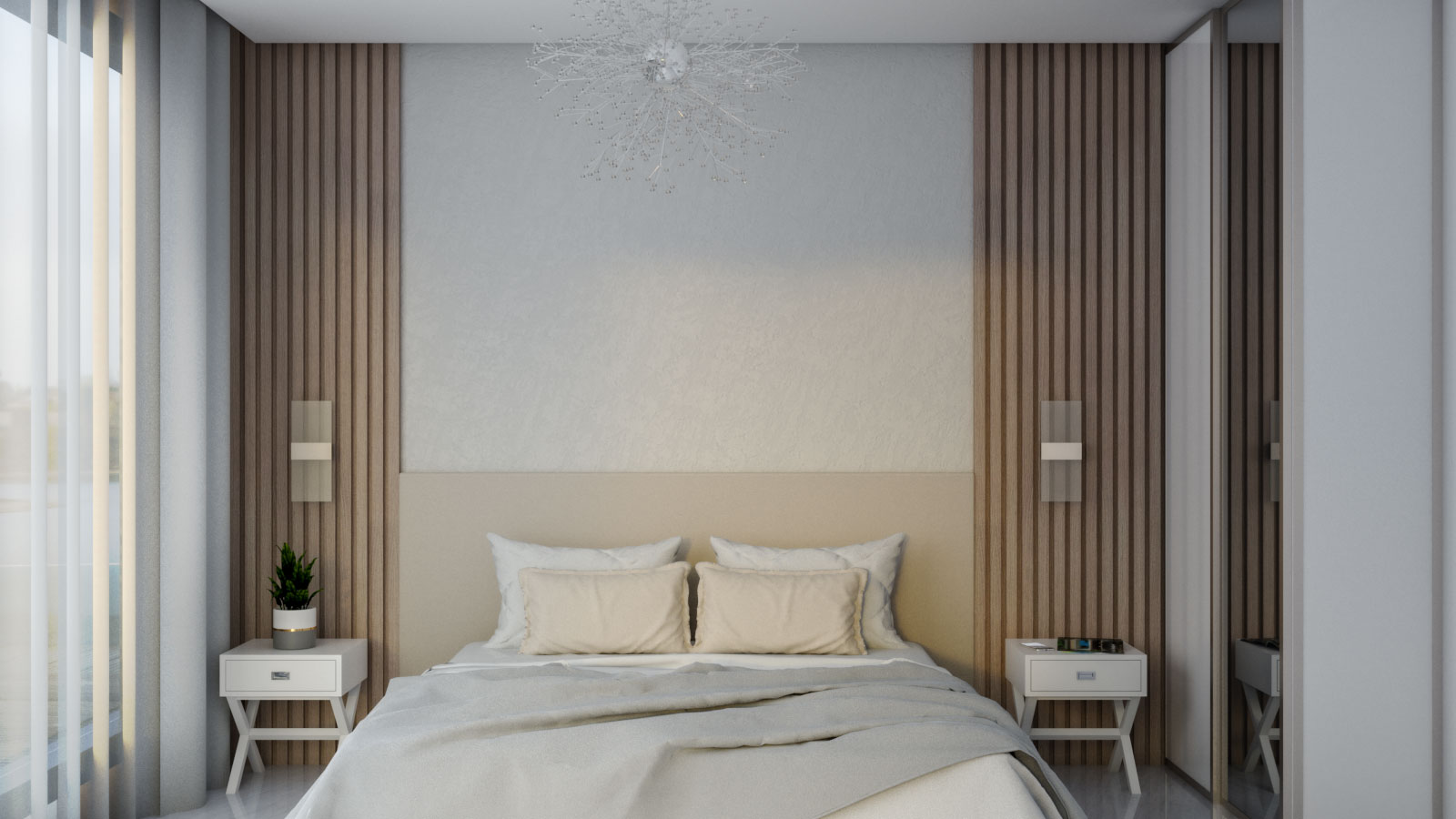 The main ideas for this bedroom is to create a modern look bedroom, but keep it simple and minimalist. As you can see, we don't use a lot of items and decorations here to keep it simple.
To give more natural feels, we add wood accent at the wall in the back of the bed. As we know, wood and modern design is not come together, so to make the wood feels more modern, we trim it in small size and arrange it vertically so it looks much more modern.
Mirror are important parts of any small size rooms to make it feel more bigger and spacious. That's the reason we choose a wardrobe cabinet with mirror doors so it had two functions, first to store and organize wardrobe, and second, to help make this bedroom feel larger.
For the colors for this bedroom, we use white as the main colors. More than half of the materials and furniture in this bedroom will use this color. And then we add some other natural and smooth colors such as light grey and beige to keep this bedroom simple and minimalist.
Hope this bedroom ideas can give you some ideas and inspirations to maximize the potential for your small bedroom, don't forget to add our social media to get notified when we publish new design ideas. If you like the items used in this project, you can find the list of items used below. Thank you!
---
Item Used in this Project
White Finish Modern X-Shape Accent Side End Table Nightstand
This white finish Modern table created with wood veneer, hardwood and MDF to make sure it has great quality. This nightstand is versatile and can be used in various bedroom design style, including this modern style bedroom. With one drawer for storage, this table became a fresh and clean addition to this bedroom design.
White Ceramic Flower Pot Planters with Gold and Grey Detailing
To add more natural ambient to this bedroom project, we use this modern and elegant planter to put some artificial vegetation. With delicate gold and gray details, this planter not only breathtaking to look but also had amazing functional as well. That's why we choose this planter as a decoration for this modern small bedroom project.
Modern Wall Sconce LED Wall Lamp Cool White with Acrylic Material
We use this modern Wall Sconce LED Wall Lamp Cool White which made of acrylic and pure aluminium materials as a bedside wall lamp for this bedroom project. With fantastic and advanced appearance, this lamp is not only functional as a light source, but also works well as room decoration.
Chandeliers Firework LED Light Stainless Steel Crystal Pendant Lighting
As a main source of light for this bedroom, we use this modern chandeliers firework LED light that had elegant and unique design. This lamp is perfect for any different bedroom style and decoration, including for this small modern bedroom design.

---
You'll Also Like :