Grey couches seem to be one of the most practical, risk-free options that can work for almost all kinds of interior styles. Furthermore, as a neutral choice, it can blend easily with any other color and can be a great option to tie up many different colors together.
However, these kinds of couches come with some drawbacks, and one of the most often is the risk to make the living spaces look boring and uninviting.
Fortunately, there are many different options that you can use to make the sofa look more lively and attractive, such as choosing the right wall color behind it, using the right rug combinations, or mixing it with the perfect decorative pillows.
Using a throw pillow seems to be one of the fastest, most efficient ways, and that's why we love this approach when it comes to making any uninspiring sofa feel more alive.
Based on years of experience in the interior design world especially after did a dozen of projects that involve grey couches, we will share the 20 best throw pillows that can be a perfect mix with any grey couch, and here they are :
What Color Pillows for Grey Couch?
1 of 20
Light Grey
For you who want to keep grey being the main palette of your interior, then the best way to enrich the look is by adding more layers of grey. You can go either with a darker or lighter tone, but we prefer to go with a lighter one.
Using a similar grey not only can create a seamless look but also can avoid the pillow from becoming a distraction to the gorgeous couch.
Any light grey will work nicely with the medium grey-toned couch, and for a dark gray couch, you can go with a medium grey. To add an extra dimension, we love to use any light grey pillow that comes with some texture, such as this amazing pillow by Mernette that had a simple plain stripe texture to match the minimalist-modern style of the entire living room.
---
2 of 20
White
As a classic combination, this can be a perfect choice to keep your space simple, but still, bring enough contrast and make the entire space feel fresh and crisp.
However, in most cases, a plain white seems not to work really well. Thus, you can avoid this by choosing any white pillow that comes with beautiful texture, some of our favorites are a white geometric textured or a simple corduroy stripe pillow such as this wonderful velvet white by Home Brilliant.
---
3 of 20
Sage
Sage is one of the most neutral green shades, and that's why it can easily blend with any other colors. When paired with a grey couch, the sage will keep the couch simple but still add enough freshness to make the couch looks much more attractive.
If you are looking for a green cushions for your couch, without any doubt, this is the best option!
---
4 of 20
Navy
Most homeowners choose a gray couch with the main intention to create an elegant living room, and there are no better choices to improve and enhance the couch to fully exploit its elegance by using a bold, navy blue such as this stylish striped textured pillow by Home Brilliant.
This item can also add a beautiful touch of boldness while at the same time striking new shades to make your seating area looks richer.
---
5 of 20
Sky Blue
However, if you are looking for a softer blue, then you can try pairing a sky blue with your grey couch.
This light, muted shade of blue will keep your couch calm, cozy, and soothing, while at the same time bringing some splash of airy color to cheer up your seating area.
---
6 of 20
Beige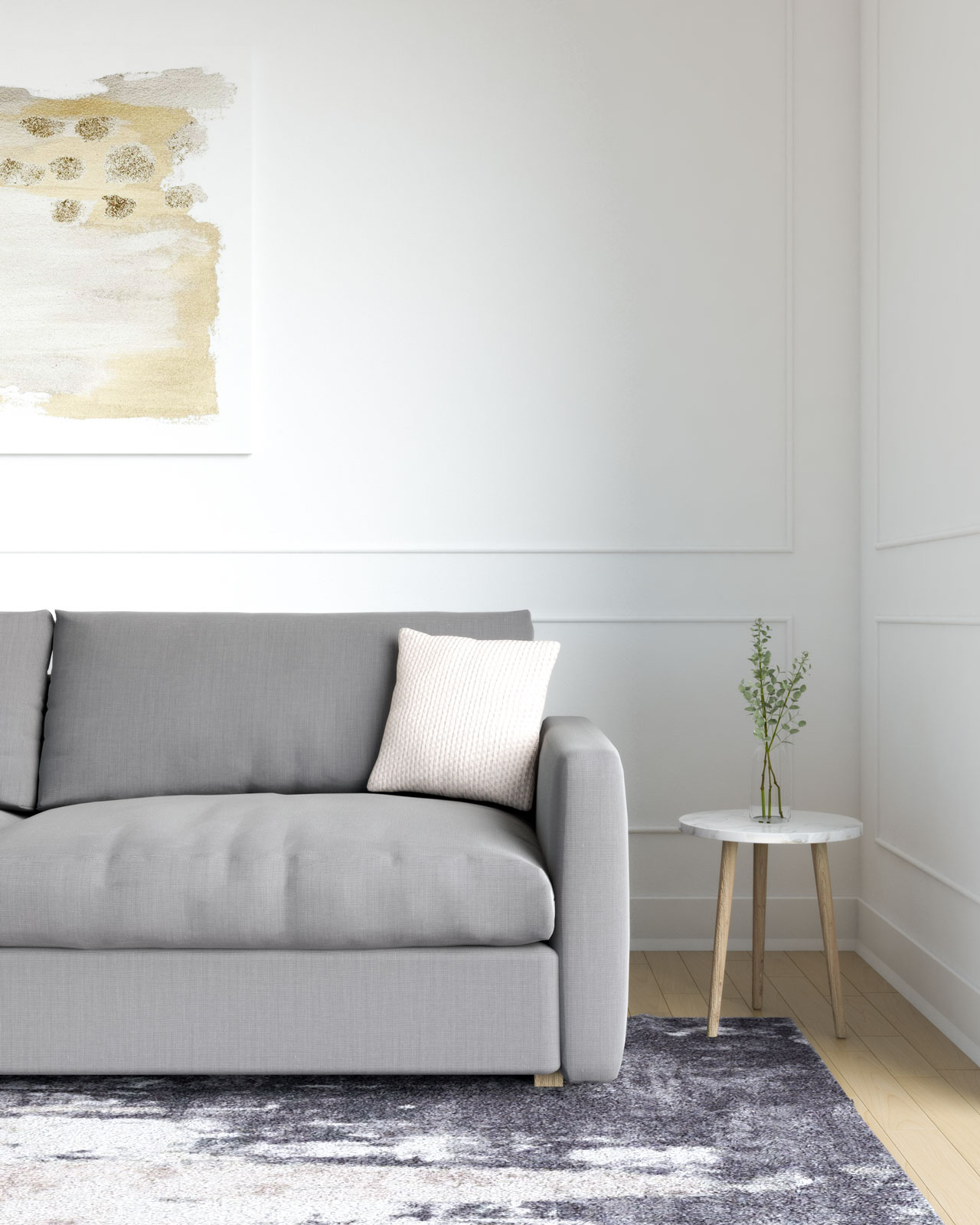 As a cool-tone shade, pairing grey with a warmer one can be a great way to create a perfectly balanced living room. And there are no better choices for this particular job rather than beige. Beige not only can make the couch look warmer, but it can also add a touch of a beautiful and welcoming charm vibe.
There are many great beige items that you can choose to warm up your couch, but if we should pick one, we prefer this charming chenille beige pillow by Mernette. This gorgeous item can be a perfect choice to decorate your interior in simple but fashionable ways.
---
7 of 20
Brown
Another great bold option that works really well with grey couches: brown. Either medium-finishes brown or even dark brown will lift up the intensity of your grey couch in a luxurious, glam vibe.
Even though most brown shade had a strong look, they are still neutral, and thus won't ruin the elegance of any grey couch.
---
8 of 20
Light Green
Light green is a perfect choice if you want to add a splash of pop to your couch and at the same time bring a wonderful fresh and natural ambiance. We love to use these kinds of cushions for any room that lacks greenery and natural elements.
---
9 of 20
Dark Green
Any dark green shades such as dark emerald or dark olive can perfectly complement your couch. The fresh yet velvety looks of these kinds of pillows will easily elevate not only your couch, but also the entire home.
To get the best result, incorporate some gold elements around your couch.
---
10 of 20
Grey and White
If you want to keep the flawless looks around your couch but are still afraid that it doesn't solve the boring and monotonous problems, then you can try a white and grey. The grey elements will keep it harmonious with the couch, while the white brings a nice crisp contrast to brighten up your living room.
For this kind of pillow, one of our favorites is this horizontal stripe pillow by Amhoo Store. This item perfectly blends a beautiful farmhouse-style pattern in stylish and modern ways and makes it a nice addition to any living room.
---
11 of 20
Beige and Grey
This is a classic, vintage combination that can bring a beautiful mix of cool and warm tones together. And this also can be a great accent color for a grey sofa, especially if you want to add such vibe to your entire space.
One important thing if you prefer these kinds of pillows is to carefully choose the perfect pattern and texture, especially if your current interior style tends to go in a more modern/contemporary direction.
---
12 of 20
Yellow
There are no better choices than a yellow if you need to add some splash, vibrant pop to bring your couch back to life.
Even just one piece of yellow accessories can make a big difference when used on the neutral grey couch. However, since yellow is quite vibrant, please keep them only as an accent color and avoid overusing them.
---
13 of 20
Yellow and Grey
Any neutral-themed living room palette tends to feel cold and joyless, and one interesting choice to solve this is by adding a burst of yellow accent to it.
However, sometimes a plain yellow can overpower the entire room and take over the main attention from the couch. Thus, rather than choosing a plain yellow, you can try using any pillow that had a mixture of yellow and grey patterns in it, such as this gorgeous item by Phantoscope.
As you can see in the picture above, the pillow brings a bright and fun sunny sunshine vibe to make the entire home feel more alive, while at the same time still looking flawless with the couch, thanks to its grey elements.
---
14 of 20
Orange
Another great option for you who want to add some sparkling hues to the couch. Unlike yellow, most oranges had some bold, elegant feels and that's exactly what you to keep the couch and pillow goes in harmony.
This combination will work best inside any modern, contemporary interior theme.
---
15 of 20
Grey and Light Blue
Another great accent that will look fabulous with a grey sofa is light blue. This shade not only can add a splash of wonderful pop to the couch but also can add a tranquil and serene ambiance to entire seating area. But again, for these kinds of bright accents, we prefer to choose the ones that come with some grey pattern in them to help them blend easier with our couch.
And one of our favorites is this artistic item. It had a beautiful abstract-style pattern that is perfect for any living room with a more trendy and modern approach.
---
16 of 20
Grey and Gold
Adding gold accent around the gray sofa is a perfect way to lift up and enhance the looks of the couch in luxurious and glamorous ways. The common ways to do this are by adding a gold table beside the couch or putting a gold mirror behind it. But do you know that it also can be done using a decorative pillow?
This velvet item by Avigers is a great example. As you can see, the vibrant gold embroidered pattern strikes beautifully to make the entire couch look glam and velvety, and the grey keeps it blends nicely with the couch.
---
17 of 20
Black Leather
Boost the boldness and elegance of your grey couch by pairing it with the black leather pillow. This pair will create striking neutral contrast that helps makes each other stand out more. So, your entire seating area will be the center of attention in your living room.
This color combination can also becomes a great option if you doesn't want to add too much colors to your interior, so you can keep the entire seating area simple, clean, but still looks amazing.
---
18 of 20
Teal
Since both shades had a cool tone, the teal and grey can go together beautifully in harmony. While at the same time, the teal pillow adds plenty of richness to make your couch feel more alive.
Moreover, teal is a unique shade of green that unlike most green shades, it comes with some modern looks. That's why we highly recommend you try this combination for those who want to create a contemporary modern style interior.
---
19 of 20
Blue-grey
Here is another great shade of blue that blends perfectly with grey. Having strong neutral undertones, a blue-grey surely will fit easily inside any grey-themed interior.
Together, this neutral combo create a harmonious interior that still had enough hues to avoid the boring, monotonous looks.
---
20 of 20
Purple
Classy and elegant, those are the vibe that you can achieve when combining a grey with a purple. Actually, purple is a tricky color that hardly fits into any decor scheme, but with the strong neutrality, this unique shade can blend beautifully.
Lastly, this combination will create a stunning, aesthetic look to the grey couch and makes your living room becomes an Instagram-worthy space.