When designing your living room, one task you cannot skip is choosing the right curtain color for your walls. Unfortunately, this is not as simple as it seems and might overwhelm you.
Choosing the right curtain color for your wall plays a significant role in the overall look of your room. Hence, you want to be careful with your choice.
Now that you have painted your walls purple, your options are narrowed down, but even at this, you are still more confused as to what curtain colors go well with purple walls. However, with the right tips, this shouldn't be challenging.
Two major factors are necessary when picking a curtain color for purple walls. One, examine the existing décor and know which color will perfectly fit in, without disrupting your design. Two, ask yourself, "what feelings do I want to create in my living room?" As a bonus, you also want to consider your desired brightness level in the room, as your choice of curtain can determine the level of brightness allowed in the room. 
Considering these and other factors, here are our best pick of curtain colors that go with purple walls:
14 Best Curtain Colors for Living Room with Purple Walls 
Cream
The first color on this list of curtain colors to match with purple walls is cream. Here is a warm color that works well with several other colors, including purple.
Cream is excellent for those who cherish the richness of white but don't want to opt for pure white. The two colors are opposite colors on the color wheel, meaning they are complementary colors.
You also want to consider cream as your curtain for its vibes. While cream is associated with seriousness and reliability, color psychologists say it stands for openness and comfort. 
---
Light Gray
If you are lost in choosing a curtains for purple walls, one professional idea is to go for a neutral color, such as gray.
Gray is a color between black and white, and it is a great choice for those who don't want to go past white and black. Light gray is a more ideal shade of gray if the plan is to bring more brightness into the room.
Plus, gray evokes different positive vibes, such as balance and neutrality.
---
Olive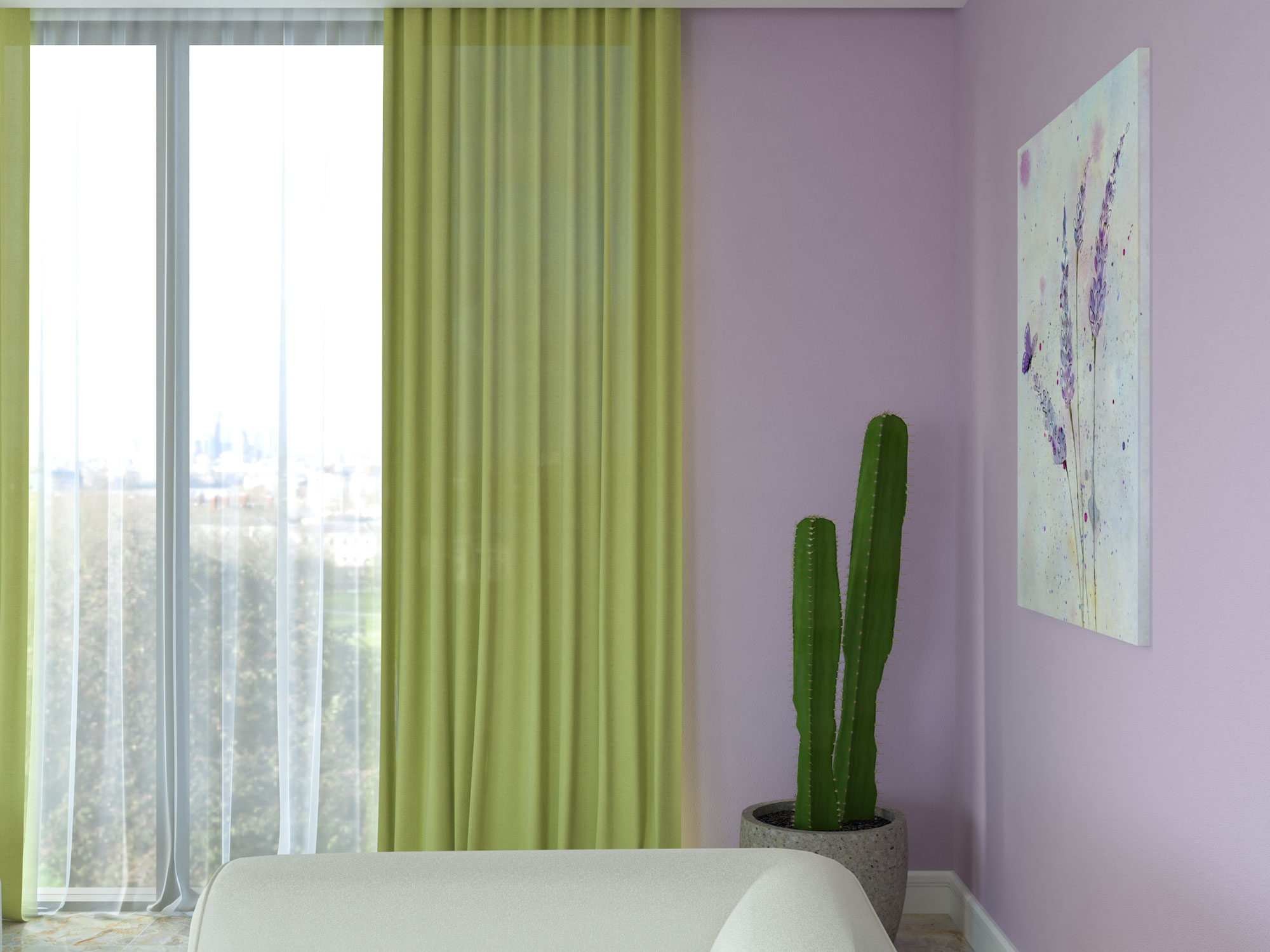 Olive is yet another color to pair with purple. Olive goes well with purple to warm up the room and create a beautiful space. Since purple and olive are opposite colors on the color wheel, pairing olive with your purple walls will help create a striking contrast. 
Plus, olive symbolizes different vibes. While the earthy color is perceived as a symbol of harmony, it is also associated with peace and sophistication.
---
Navy
Blue and purple can go well together. However, when it comes to curtains, we highly recommend you to go with darker side of blue like this elegant navy curtains.
The navy can pop boldly against the purple background, but still share similar hues to let them blend together flawlessly.
---
Charcoal
Again, gray is a good idea of curtain color to match with purple walls. However, unlike light gray which adds some brightness to the room, you want to consider charcoal, a dark gray shade, to achieve a darker space.
Also, if you cherish the vibe of professionalism and seriousness, go for charcoal or dark gray. 
---
Different Purple Shades
Another idea to help you when lost in your choice of curtain is to go for your wall color as your curtain color.
This doesn't mean you are lazy with your search, but only means you are a fanatic about purple and want to create a bold statement in your living room. Purple leaves you with many options, thanks to its different shades. Hence, you can achieve different styles with this.
Choosing purple as your wall and curtain helps heighten the vibes that purple creates, including romantic and light-hearted energies. 
---
Yellow
Again, when picking a curtain color for your walls, one idea that never goes wrong is to look for an opposite color to your wall color on the color wheel.
Colors opposite each other are regarded as complementary colors and make a striking contrast. In the case of your deep purple walls, yellow are a good buy. 
Plus, yellow creates a beautiful pop of color effects and evokes the vibes of cheerfulness and happiness.
---
Orange
Purple and orange are analogous colors, meaning they are related. While orange is a combination of yellow and red, purple is made up of blue and red.
Hence, you are never wrong by pairing orange curtains with purple walls. This also means you are combining the three primary colors by choosing orange as your curtain color to match your walls. 
Also, go for orange as a match for your purple if you cherish the feelings of happiness and vitality that orange creates. 
---
Pink
Another beautiful choices to creates an aesthetically pleasing interior. The soft and subtle pink bring some sweetness to the purple, while still had enough contrast to make them easily distinguishable.
We love to use these kinds of curtains for any light purple painted wall, such as lilac or lavender walls.
---
Dark Green
If you are looking for a complementary color to your purple, then dark green may be one of the best choices.
It's boldness make the dark green stand out naturally against the purple, while at the same time bring some fresh and natural ambiance from the nature to your home.
This color combination perfectly simulate the beautiful earthy nature inside your home.
---
Teal
Another great green shades but this time, it's goes toward blue. Yes, teal is a unique color that perfectly blend the freshness of green with the airy and calming looks of blue, creating a fascinating vibe that fit beautifully inside purple-themed interior.
Moreover, using teal can be a great way to add a bit of modern touch to your space while still keep the colorful and rich visual appearances.
---
Maroon
If you are looking for a color to complement your purple and create a bold combination, search no further than maroon.
Maroon and purple are another set of related colors since maroon contains some purple undertones. Depending on the shade of purple you are using, you can create different styles matching these two colors. 
As for vibes, maroon is linked to feelings of excitement, love, strength, courage, and power.
---
White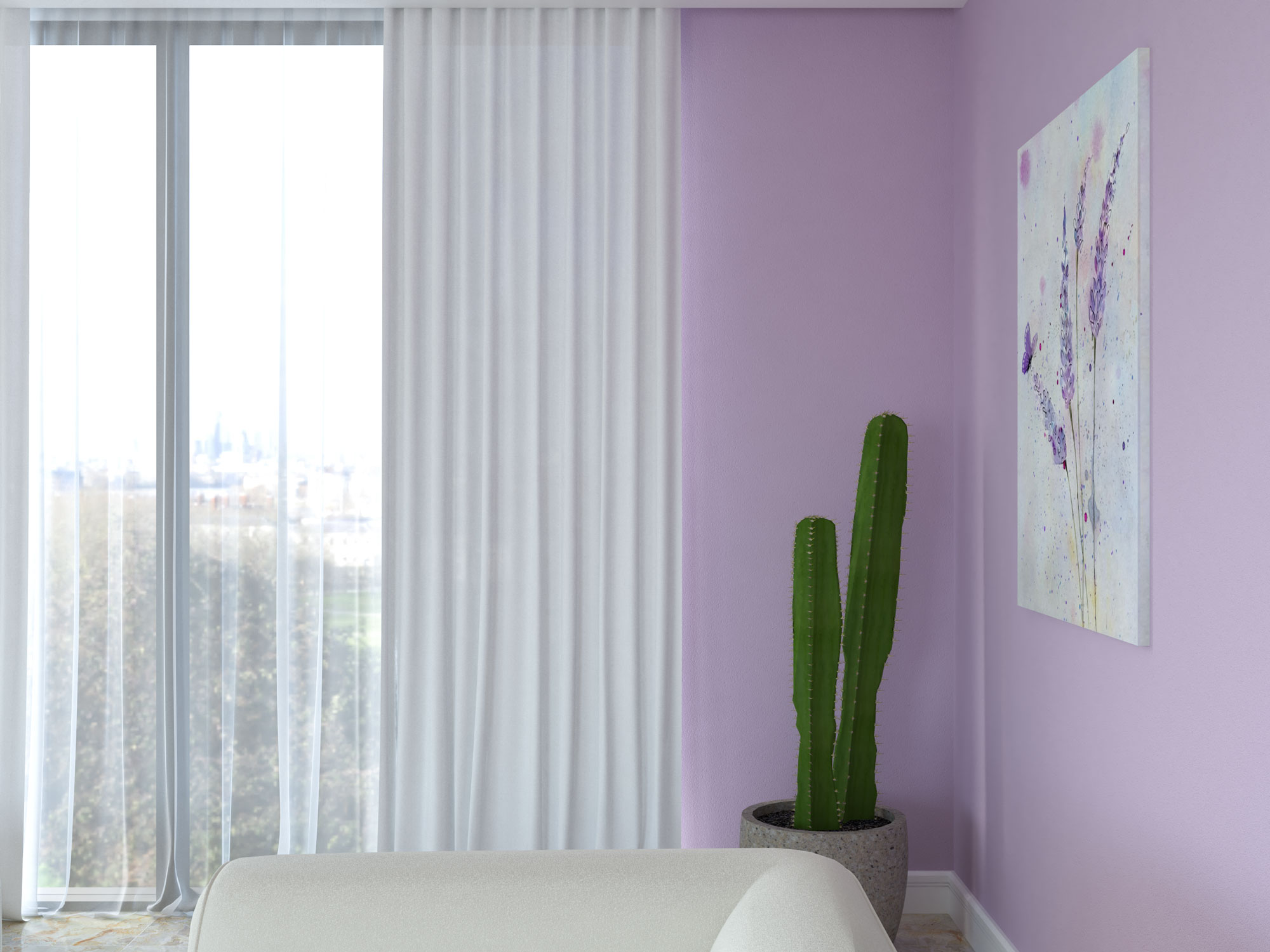 This is surely the safest options when it comes to tricky colors like purple. By using white sheer curtains, you will let the purple as the main star of your home without any other colors interrupting it. White also can helps make your entire space feel clean and crisp.
Furthermore, using this ultra-neutral can boost the appearance of your purple painted walls, exposing all of it's beauty.
---
Black
Alternatively, you can go with black. Black curtains look elegant and can help make the wall feel much lighter, so it can be a great option for any dark purple walls.
This bold choice will easily stand out, but since it's a neutral, it wont taking over your space as any colorful choices do.
---
Conclusion
Choosing the right curtain colors for your purple walls shouldn't be a hassle. By examining the existing décor in the room and what color best suits it and knowing what vibe to create, you can easily make your choice of color. 
This piece has provided you with the best curtain colors to consider for your purple walls, and you won't be wrong with whatever option you choose from the list.
---
Browse More Curtain Ideas