Cherry wood makes beautiful bedroom furniture that is relatively durable. Since it's a photo-reactive material, it gradually darkens over time too, resulting in a warmly attractive deep cherry red.
Matching the best wall color for bedroom with cherry furniture can make all the difference in achieving an elegant look that stands the test of time. First, you should consider the overall aesthetic of your bedroom.
Do you prefer cool contemporary spaces, boho and botanical, bright and sunny, or pale and minimal? Do you use your bedroom for daytime tasks or just for resting?
We'll look at options for all of this and more with seven of our favorite wall color options for rooms with cherry wood furniture.
What Color Wall Goes with Cherry Furniture?
Pure White
Pure white walls satisfy the minimalist aesthetic and appeal to those of us who prefer a fresh and simple sleep space in which to unwind without visual distractions.
A clean white space pays a cool complement to the rich red tones of cherry bedroom furniture, allowing the wood's great depth of color to remain the protagonist of the color story.
---
Beige
Taking visual warmth up a notch from plain white walls, beige walls elegantly complement the warm tone of cherry wood furniture. Beige walls appear less stark than their white counterparts, whilst maintaining a calm and serene look that promotes rest and relaxation.
This is also a great color to employ in a bedroom that includes a home workspace due to its undistracting nature and light-reflective quality.
---
Olive Green
In color theory, red and green are directly opposite one another on the color wheel, making them complementary colors. Therefore, olive green walls make a great partner for red-toned cherry furniture.
This uplifting yet muted shade of green makes a glorious canvas for a botanical bedroom theme and for earthy boho-inspired bedroom decor accents. Freshen the look with crisp white interludes.
---
Light Gray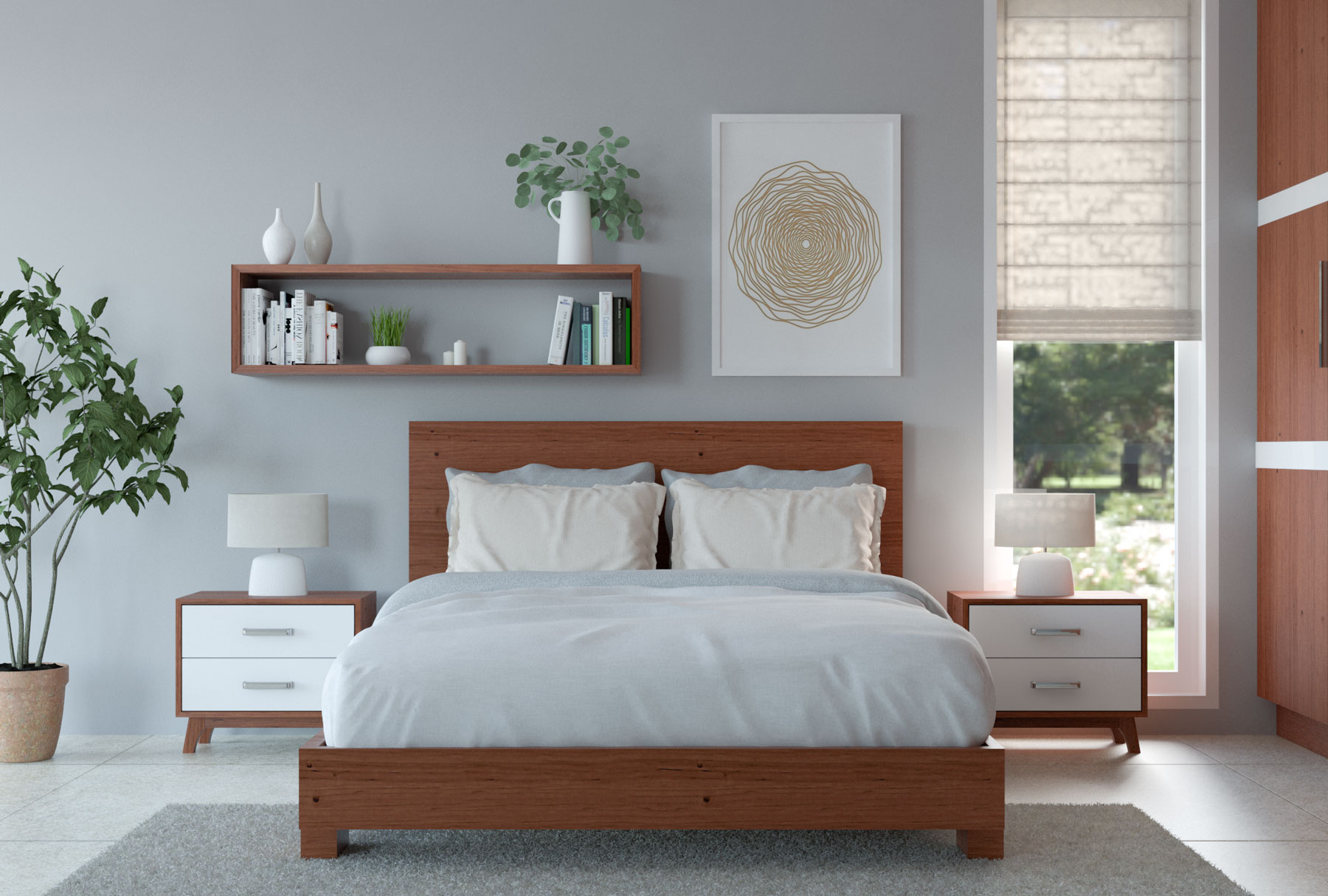 Light gray wall paint lays a cooling effect around the heat of cherry wood furniture, accompanying it into a calm color palette with a contemporary edge.
Ensure your room receives an adequate influx of natural light before taking the plunge into the realm of gray, otherwise, you may not enjoy the shadowy results. Uplift this desaturated wall color with indoor plants and modern wall art.
---
Creamy Yellow
Choose a creamy yellow wall color to make the most of sunny spaces. Creamy yellow paint hues suit the warmth of cherry wood bedroom furniture whilst providing a freshness that is energizing during sunlit mornings and restful in the evening time under artificial light.
This relaxing tone makes a wonderful backdrop for other natural materials too; think rattan light shades and jute rugs.
---
Light Blue-Gray
When teamed with warm cherry bedroom furniture, light blue-gray wall paint offers the cooling effects of gray with a breezy, enlivening boost. Just like a hazy sky, light blue-gray bedroom walls appear airy and can make a small space feel more open.
This subtle color is an ideal option for minimalists who want to break away from the stark black and white color palette without going too bold.
---
Dark Blue
If you are planning to creates an accent wall, then dark blue paint can be a perfect choices.
Not only it can complement the reddish-tone of the cherry wood, the dark blue wall will also bring some elegant twist to make the wooden bedroom feel a bit modern.
---
Mustard Yellow
Mustard yellow walls will make your bedroom appear sunny all day long, all year round, no matter what the weather or the season.
A bold mustard yellow wall color makes a great pairing for cherry bedroom furniture, offering a similar depth of tone and warmth. Break up the expanse of strong color with plenty of white interludes and sprays of natural greenery.
---
Turquoise
Creates calm and relaxing bedroom by painting the walls with turquoise. This shade creates a soothing ambiance while still adds enough hues to enrich the entire bedroom.
The calm tone of this color balance out the warm tone of the cherry furnishings, making looks softer.
---
Terracotta
Creates a harmonious feeling by combining terracotta with cherry wood. The furnishings may not stand out as loudly as any other complementary colors, but it still looks beautiful as there are enough contrast between them.
This warm toned combo will make your bedroom feel welcoming and inviting.
---
Soft Pink
Since cherry had some strong red undertones, it obviously a great ideas to combine it with another red shades. For a strong contrast, soft pink or any white color with pink undertones can be a perfect choice.
This soft, muted color will creates a bright and light bedroom, while still gives beautiful hues to make the entire bedroom looks interesting.
---
Charcoal
Another bold color that can be a great option for you who want to creates an accent wall inside your cherry-themed bedroom. As a neutral, charcoal or dark gray can easily blend with strong and vibrant elements like cherry wood.
The charcoal wall with neutralize the strong furnishings, making it feel a bit calmer.
---
Conclusion
In selecting a complementary wall color, your treasured cherry bedroom furniture will continue to sing out in the color scheme as it beautifully ages and darkens over time.
You could even employ a mixture of these shades to tint your bedroom decor schemes, such as creamy yellow walls with a mustard yellow bed throw and accent cushions, or a crisp white background with a light blue-gray rug.
Remember to break up large expanses of color with clean white accent furniture, decorative shelving, and the revitalizing effects of indoor plants and you'll have a bedroom that you will love to wake up in.
---
Browse More Bedroom Wall Color Ideas